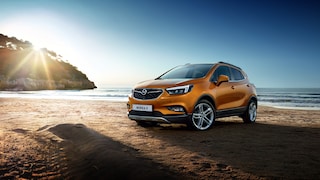 Cross over to the bright side with the Mokka X. It encourages agility and adventure so you can travel at the height of comfort and remain entertained at every turn.
The shown product visualisation is only an example. Please note that some combinations may not be final specification. Additional options are available on same models.
TRUE CLASS COMES FROM WITHIN

The world is at your fingertips from the driver seat of this beauty. Be welcomed by a Leather-Covered Steering Wheel accompanied by convenient Audio Controls while sitting comfortably in a well-designed seat.

PREMIUM BY DESIGN

A compact SUV that expresses stability and agility all in one go. Nothing will look out of place with Colour-Coded Door Handles and Bumpers and is guaranteed to leave an impression with its attention to detail – with the Chrome Exhaust Tip and overall elegance that's enhanced by LED Lights.

WHAT'S IN IT FOR YOU


World-class detailing greets you inside the Mokka X with Cloth or Leather Trim in Milano Black Cloth and Jasmin Black Leather, specifically chosen to afford you that premium feeling.

CREATE A CHARACTER


The new Mokka X retains its wild side with 17" and 19" alloy wheels. A true quality ride that captivates with increased performance and improved acceleration.

BRING IN THAT FRESH FEELING

The optional Electric Sunroof in the Mokka X Cosmo invites great weather to accompany you on any trip.
BETTER VISION WITH ADAPTIVE FORWARD LIGHTING

The

Adaptive Forward Lighting LEDs are 30% brighter than halogen,

and have 9 different adjustments including

LED Daytime Running Lights

to assist the driver to detect risks earlier and react faster.

Adaptive Forward Lighting (AFL)

is optional in the Mokka X Cosmo.

 

Stop Mode: Saves energy (when Start/Stop Mode is on).
Back-up/Manoeuvring: Activates Front Cornering Lights for easier parking.
Static Cornering: Additional LED Light for better view of what's around the corner.
Dynamic Curve: Above a set speed, extra light on the relevant side.
High-Beam Assist: Full-on lighting. Automatically dips your headlights when it detects other vehicles.
Country: A longer, broader, dazzle-free low beam (above 55 km/h).
Town: A wider beam spread helps with visibility of pedestrians (below 55 km/h).
Tourist Mode: Adapts lights to driving on the other side of the road.

 

LOOK BEHIND YOU

Thanks to our never-ending quest for ease of functionality, the Mokka X's Rear-View Camera helps you reverse safely without straining your neck to look over your shoulder. Take the anxiety out of parking.
INTELLILINK. INFOTAINMENT THAT CONNECTS


You can't go wrong with Opel's infotainment systems engineered to keep you entertained at every turn. It is fully compatible with

Apple CarPlay™1

and

Android Auto™2,

which means you're sorted either way.

 

What is Apple CarPlay™?

Apple CarPlay™ is a smarter, safer way to use your iPhone in the car. It takes charge of the functions you want to perform with your iPhone while driving via your vehicle's built-in display. You can get directions, make calls, send and receive messages, and listen to music without distracting your driving.

 

How it works?

Apple CarPlay™ enables iPhone users to display certain Apps and functionality from their phone on the vehicle's Infotainment display, allowing them to control those Apps and functions via the vehicle's Infotainment System Touchscreen or Voice Commands.

 

Key features of Apple CarPlay™ include the following:

Maps: The power and simplicity of Apple Maps come to your dashboard — complete with turn-by-turn directions, traffic conditions, and estimated travel time. Apple CarPlay™ can also predict where you most likely want to go, by using addresses from your email, text messages, contacts, and calendars.

 

Messages: Siri can send, read, and reply to your text messages on your behalf, so you never have to look at your iPhone while driving.

 

Phone: Make calls, receive calls and listen to voicemail. Siri can assist you with all these activities. All you have to do is to request.

 

Music: Access your artists, songs, playlists, and iTunes Radio using your car's built-in controls. Or just tell Siri what you'd like to listen to.

 

3rd Party Apps: Apple CarPlay™ will also support additional audio Apps that you've downloaded to your iPhone for enjoying podcasts, music and radio.

 

1. Apple CarPlay and Apple are trademarks of Apple Inc., registered in the U.S. and other countries. 2. Android is a trademark of Google Inc.

 
A GRACEFUL GRADIENT

Going uphill? No problem. Thanks to

Hill-Start Assist (HSA)

and

Hill Descent Control (HDC),

there's no risk of rolling the wrong way.

 

When you start or park your car on steep hills, Hill-Start Assist (HSA) automatically holds the brakes while you focus on moving forward.
Hill Descent Control (HDC) controls downhill speed to assist you with braking, even on steep slopes or car park descents.

 

EFFICIENCY WHERE IT COUNTS


It's power where you need it. The Mokka X is fitted with a fuel-efficient

1.4 Turbo Engine

for the back and forth of everyday driving.

 

Choose the Opel Mokka X 1.4 Turbo EcoTEC® for the ultimate drive: 6-Speed Automatic, and 103 kW of power.
When driving in urban areas, Fuel Consumption ranges from 7.5 to 8.4 l/100 km. On highways and country roads, the fuel consumption of the Mokka X reduces to 5.0 – 5.4 l/100 km and the combined fuel consumption rate is 5.9 – 6.5 l/100 km. CO2 Emissions in g/km: combined 138 – 149.

*Fuel consumption calculations according to Government ECE R101 or SANS 20101 Standards.

 

SMOOTH CHANGES


You can decide which Mokka X transmission is right for you with the convenient option of 6-Speed Automatic or Manual Transmission on the various models.

SAVE ON FUEL AND EMISSIONS


To minimise fuel costs and your carbon footprint, look for the EcoFLEX badge and ask for Start/Stop which is available with the fuel and emissions-saving EcoFLEX Technology Pack.
OPEL Mokka X

If you're after the full-sized SUV experience combined with the driving dynamics of a compact car – meet the OPEL Mokka X.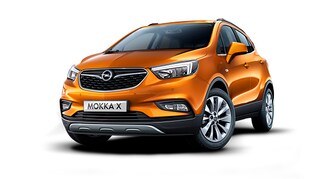 No Current Offers For OPEL Mokka X
Please contact your nearest dealer for more information.