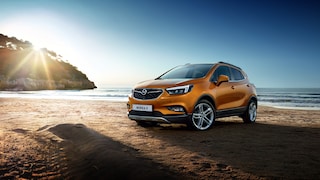 INTERIOR

TRUE CLASS COMES FROM WITHIN.

World-class refinement, innovative options and generous spaciousness greet you in the initerior of the MOKKA X SUV. An elevated seating position lets you look out over most cars.

EXTERIOR

PREMIUM BY DESIGN.

The 2017 MOKKA X leaves an impression of bold confidence in its wake. Chiselled lines and sculpted LED lights cement its status as a street-smart SUV infused with premium design .

TRIMS & FABRICS

WHAT'S IN IT FOR YOU.


The new Mokka X comes with striking new combinations of fabrics  and moldings. Attention to fine detail enhances the premium character  inside your car.

WHEELS

CREATE A CHARACTER.


The new MOKKA X retains its wild side with 17" and 19" alloy wheels. A true quality ride that captivates with increased performance and improved acceleration.

SUNROOF

LET THE OUTDOORS IN.


Let the outdoors in. An optional electric sunroof allows light to stream inside the spacious cabin of this premium Opel SUV.
ADAPTIVE FORWARD LIGHTING LED

AFL LED. PUT OTHER LIGHTS IN THE SHADE.


The

Adaptive Forward Lighting LEDs are 30% brighter

than halogen, and have 9 different adjustments including LED Daytime Running Lights to support the driver to detect risks earlier and react faster.

Stop Mode: Saves energy (when Start/Stop mode is on).
Back-up/Maneuvering: Activates front cornering lights for easier parking.
Static Cornering: Additional LED light for better view of what's around the corner.
Dynamic Curve: Above a set speed, extra light on the relevant side.
High Beam Assist: Full-on lighting. Automatically dips your headlights when it detects other vehicles.
Country: A longer, broader, dazzle-free low beam (above 55 km/h).
Town: A wider spread helps highlight pedestrians (below 55 km/h).
Tourist Mode: Adapts lights to driving on the other side of the road.

REAR VIEW CAMERA

SEE WHAT'S BEHIND YOU.


The 2017 Opel Mokka X's Rear View Camera helps you reverse safely without straining to look over your shoulder, making parking safer and much more comfortable.
INFOTAINMENT

INTELLILINK. INFOTAINMENT THAT CONNECTS.


The top-notch infotainment system is fully compatible with

Apple CarPlay™1 and Android Auto™2,

giving you easy access to smartphone features on its big touch display.

 What is Apple CarPlay™? Apple CarPlay™ is a smarter, safer way to use your iPhone in the car. Apple CarPlay™ takes the things you want to do with your iPhone while driving and puts them right on your car's built-in display. You can get directions, make calls, send and receive messages, and listen to music, all in a way that allows you to stay focused on the road. Just connect your iPhone and go. How it works? Apple CarPlay™ enables iPhone users to display certain apps and functionality from their phone on the vehicle's infotainment display, allowing them to control those apps and functions via the vehicle's infotainment system touchscreen or voice commands. Key features of Apple CarPlay™ include the following: Maps: The power and simplicity of Apple Maps come to your dashboard — complete with turn-by-turn directions, traffic conditions, and estimated travel time. Apple CarPlay™ can also predict where you most likely want to go using addresses from your email, text messages, contacts, and calendars. Messages: Siri can send, read, and reply to your text messages for you, so you never have to look at your iPhone while driving. Phone: Make calls, return missed calls, and listen to voicemail. Siri can help you do all these things. All you have to do is ask. Music: Access your artists, songs, playlists, and iTunes Radio using your car's built-in controls. Or just tell Siri what you'd like to listen to. 3rd Party Apps: Apple CarPlay™ will also support additional audio apps that you've downloaded to your iPhone for enjoying podcasts, music, and radio.

 

1. Apple CarPlay and Apple are trademarks of Apple Inc., registered in the U.S. and other countries. 2. Android is a trademark of Google Inc.

NAVIGATION

THE TOP OF THE RANGE SAT NAV.


The Navi 900 IntelliLink (optional on Cosmo) is a fully-fledged navigation system on a high-res 8" colour touch screen, which allows you to enter the destination via voice command.

 

Enjoy the comfort of a fully-integrated top-of-the-range navigation system on a 8" colour display. Featuring dynamic navigation in 2D or 3D high-resolution mapping, including detailed guidance and traffic updates, the Navi 900 is also compatible with Apple CarPlay™ and Android Auto™ by Google.

 

Embedded voice control in the Navi 900 allows you to select your destination by speaking, dictate your reply to SMSes and operate your smartphone hands-free. Addresses from your smartphone's contact list can also be used as a destination.
HILL START ASSIST & HILL DESCENT CONTROL

HILLS WITHOUT THRILLS.


Whether you drive on steep hills, steep city streets or just manage a car park descent, with Hill Start Assist and Hill Descent Control there's no risk of rolling the wrong way.

 

Hill Start Assist (HSA). When you start or park on steep hills, HSA automatically hold the brakes for a moment. There's no risk of rolling the wrong way.
Hill Descent Control (HDC). HDC controls downhill speed so you don't need to worry about braking, even on steep slopes or car park descents.

ENGINES

EFFICIENCY WHERE IT COUNTS.


Power works best when controlled, which is why we engineered intelligent Hill Start Assist and Hill Descent Control with the new, fuel-efficient 1.4 turbo engine for the MOKKA X.

 

The lightweight chassis makes the MOKKA X more agile.
Choose the Opel MOKKA X 1.4 Turbo ECOTEC® for the ultimate drive: 6-speed automatic, and 103kW of power.
When driving in urban areas, fuel consumption ranges from 7.5 to 8.4 l/100km. On highways and country roads, the fuel consumption of the MOKKA X reduces to 5.0 – 5.4 l/100km and the combined fuel consumption rate is 5.9 – 6.5 l/100km. CO2 emissions in g/km: combined 138-149.

 

*Fuel consumption calculations according to Government ECE R101 or SANS 20101 standards.

TRANSMISSIONS

SMOOTH CHANGES.


The convenient 6-speed automatic  or a hands-on manual  with 5 or 6 speeds? You only have to decide, which MOKKA X transmission is right for you.

ECOFLEX

SAVE ON FUEL AND EMISSIONS.


To minimize fuel costs and your carbon footprint, look for the ecoFLEX badge and ask for Start/Stop, which is available with the fuel and emissions-saving ecoFLEX Technology Pack.