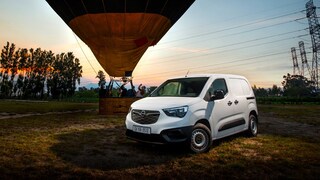 If you're looking for brandability, versatility and incredible security, the Opel Combo Cargo has got you covered. It's the space you need for your business to succeed.
MEASUREMENTS

SERIOUSLY CLEVER PACKAGING

With an impressive maximum load length of 3 090 mm(1,2), the Combo is compact on the outside but seriously spacious inside.

 

1 Dimensions may vary depending on configuration.

2 Maximum load length of 3 090 mm in the Combo L1 and  3 440 mm in the Combo L2 with load-through hatch open and passenger seat folded down.

LOADING SPACE

SPACE FOR A FULL LOAD

With a maximum load space volume of up to 3.8 m(1), the Combo has enough room to meet all of your cargo demands, so even long and awkward sizes can be moved easily.

 

1 Cargo space of up to 3.8 m3 in the Combo L and 4.4 m3 in the Combo L2 with load-through hatch open and passenger seats folded down.

PAYLOAD

HEAVY LOADS WELCOME

A payload of up to 1 020 kg(1) means nothing fazes the new Combo, making it the perfect business partner.

 

1 Maximum payload of 1 020 kg(1) for the Combo L1 and 955 kg for the Combo L2.
CABIN BULKHEAD

SECURE YOUR CARGO

The interior bulkhead  keep you, your passenger and the load safe, preventing items from protruding into the cabin space – a solid bulkhead is standard.

DOOR OPTIONS

EMBRACE TIGHT SPOTS

Single or dual sliding side-access doors1 make access to the rear of the Combo easy, and eliminates any danger of scratches while parking in tight spots.

1 Dual sliding side-access doors optional on L1 and standard on L2 models.