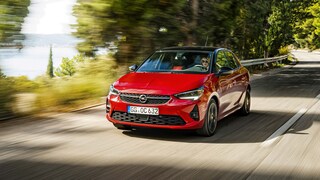 NEW 6th-GENERATION OPEL CORSA
DISCOVER THE OPEL CORSA – THE FUTURE-READY GERMAN CITY-CAR, BLENDING EVERYDAY DRIVING FUN WITH EXCITING BIG CAR TECHNOLOGY. 
Rüsselsheim -We lifted the lid on our six-generation Corsa and to say that it's all-new from the ground up would be an understatement.

The Corsa will be offered with a wider array of tech features, including glare-free IntelliLux LED matrix headlights, traffic sign recognition, adaptive cruise control, blind-spot assist and a variety of parking assistance systems.

Inside the command centre is Opel's Multimedia Navi (IntelliLink) touchscreen infotainment system, available in 17.8cm and 25.4cm screen sizes.

An entry-level 55kW 1.2 l  three-cylinder petrol kicks off the range and is equipped with a five-speed manual gearbox, and that car weighs a paltry 980kg.

A 74kW turbocharged version of the same engine can be paired with a six-speed manual or eight-speed automatic transmission.

The 6th Generation Opel Corsa will be launched in South Africa by mid-late 2020.