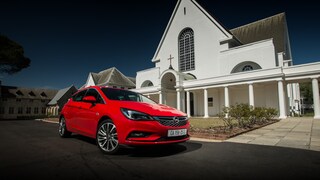 EXTERIOR

FORM FOLLOWS DESIRE.

Sharp lines, athletic sculpting and the striking curve of the 'flying' roof – the design of the Astra captures the dynamic potential within.

LED LIGHTS

LED SIGNATURE LIGHTS.

Unique Opel 'wing' signature LED Rear Lights1 and Daytime Running Lights add both style and visibility.

 

1Optional

STORAGE SPACE

EXTRA EASY LOADING.

With the boot's low sill, you'll be loading the Astra in no time. And, you can take full avantage of its generous storage space.

SUNROOF

SUN & FRESH AIR.

Savour fresh air at the touch of a button. The large electric glass sunroof1 with a built-in wind deflector keeps you draft-free while the sunshade keeps heat out.

 

1Optional
INTELLILUX LED®

INTELLILUX LED®  

See and be seen. First-in-class IntelliLux LED® Matrix headlights* give you high-beam visibility without disturbing other drivers. Combined with innovative driver assistance systems, the new Astra delivers a safer, stress-free driving experience.

 

IntelliLux LED® Matrix headlights adjust automatically so you can drive on high beam without disturbing other drivers. Opel puts intelligent technology to work where it counts:

Your headlights comprise 16 separate LED elements
They react to other vehicles by cutting out single LEDs
Your high beam is glare-free all the time
You enjoy optimum lighting in any situation
Driving at night is safer and much more relaxed
Outstanding reliability ensures maximum longevity
Cornering lights further enhance safety

 

*Optional

OPEL EYE

DRIVER ASSISTANCE SYSTEM.

The Opel Eye camera system includes*:

Traffic Sign Assistant
Lane Departure Warning
Lane Keep Assist
Following Distance
Forward Collision Alert

 

*Standard on Sport Models

 

Traffic Sign Assist: this advanced sign-detection system displays speed limits and other traffic signs, and also recognises LED speed warnings on highways. Lane Keep Assist: this warns you and provides gentle steering-wheel pushback if you unintentionally drift out of a lane without indicating. Following Distance Indication: measures the distance to the vehicle ahead and warns you if the distance becomes critical. Forward Collision Alert: uses radar sensors to detect vehicles ahead and automatically applies moderate or hard braking in an emergency.

KEYLESS ACCESS

KEYLESS OPEN & START.

Keyless Entry & Start* is a great feature for those who don't have time to search for keys. This feature allows for keyless unlocking and starting of your vehicle.

 

*Standard on Sport Model

PARK ASSISTANCE

ADVANCED PARK ASSIST.

Parking your car is easier with the Astra's new features. The hands-free Advanced Park Assist and Rear View Camera* detect open spaces and compute the perfect manoeuvre.

 

*Optional
AGR SEATS


WELLNESS SEAT.


Multi-adjustable ergonomic front seats that are AGR certified, are available in premium leather or fabric, providing you with optimal comfort while driving.

*Available on select models

 

Driver/co-driver ergonomic AGR front seats

are certified by the German AGR (Campaign for Healthier Backs), a center of excellence for ergonomics and provide a wide range of adjustment possibilities. Drive in luxury and comfort with 4-way

lumbar support

, seat cushion extension, improved recline function, and higher quality materials for density and durability. These new Astra features take it into premium class levels.

HEATED FEATURES

HOT STUFF.

Heated front seats plus a heated steering wheel* will keep you warm at all times.

 

*Optional

SMART BRAKES

ELECTRIC PARKING BRAKE.

The Electric Parking Brake* is activated by the push of a button while also increasing parking security and making everyday driving easier .

 

*Available on selected Sport Models
ENGINES

ENGINES THAT ENERGIZE.

The new generation Opel engines deliver ample power for the lightweight Astra. This means a more sporty, smooth and responsive drive that's also economical.

TRANSMISSIONS

GEAR UP!

The Astra transmissions will excite you. Choose between the 5 or 6-speed manual or automatic transmissions or 5-speed Easytronic 3.0®.

 

The 5 or 6-speed manual transmissions run super smooth and offer excellent precision. The clutch-free

Easytronic 3.0®

will even let you enjoy a sporty ride with less than 100g CO2 emissions/km. Choose our 6-speed automatic transmission for a convenient, highly efficient ride, especially in combination with Start/Stop system.

SPORT SWITCH

SPORT SWITCH.

The Sport Switch sharpens accelerator and steering response.

ECOFLEX

ECOFLEX.


ecoFLEX® technologies reduce fuel consumption and emissions. And the ecoFLEX® Drive Assist helps you to drive with optimum efficiency.

CHASSIS

WATT'S LINK SUSPENSION.

The Astra's Watt's Link suspension provides effortless, secure handling. All in all, a superior ride.
NAVIGATION

ALWAYS ON THE RIGHT TRACK.

Pinpoint accurate directions with the embedded Navi 900 IntelliLink®1 navigation infotainment system that includes ground-breaking connectivity features.

 

The Navi 4.0 IntelliLink®1 includes the following features:

Built-in navigation system with 2-D and 3-D views
Enhanced traffic service
One-line or structured destination input
7" colour touchscreen
Bluetooth® interface for hands-free calling, audio streaming and phone book access2
AM/FM Radio function
Video playback via USB2
Compatible with Apple CarPlay™3 and Android Auto™4

 

The Navi 900 IntelliLink®1 includes the following features over and above the Navi 4.0 IntelliLink:

8" colour touchscreen2
Voice Control
4.2" colour display in instrument cluster display (available for Dynamic and INNOVATION only) 
Shark-fin antenna
CD player option
SHOP for app download5
SMS read-out and reply

 

1Optional

2Compatibility and functionality may depend on your device and OS version.

3Apple CarPlay and Apple are trademarks of Apple Inc., registered in the U.S. and other countries.

4Android is a trademark of Google Inc. 

5SHOP is only available if your vehicle is equipped with OnStar.

INFOTAINMENT

WHAT IS APPLE CARPLAYTM ?

Apple CarPlay™ is a smarter, safer way to use your iPhone in the car. Apple CarPlay™ takes the things you want to do with your iPhone while driving and puts them right on your car's built-in display.

 

What is Apple CarPlay™?

Apple CarPlay™ is a smarter, safer way to use your iPhone in the car. Apple CarPlay™ takes the things you want to do with your iPhone while driving and puts them right on your car's built-in display. You can get directions, make calls, send and receive messages, and listen to music, all in a way that allows you to stay focused on the road. Just connect your iPhone and go.

How it works?

Apple CarPlay™ enables iPhone users to display certain apps and functionality from their phone on the vehicle's infotainment display, allowing them to control those apps and functions via the vehicle's infotainment system touchscreen or voice commands.

Key features of Apple CarPlay™ include the following: Maps:

The power and simplicity of Apple Maps come to your dashboard — complete with turn-by-turn directions, traffic conditions, and estimated travel time. Apple CarPlay™ can also predict where you most likely want to go using addresses from your email, text messages, contacts, and calendars.

Messages:

Siri can send, read, and reply to your text messages for you, so you never have to look at your iPhone while driving.

Phone:

Make calls, return missed calls, and listen to voicemail. Siri can help you do all these things. All you have to do is ask.

Music:

Access your artists, songs, playlists, and iTunes Radio using your car's built-in controls. Or just tell Siri what you'd like to listen to.

3rd Party Apps:

Apple CarPlay™ will also support additional audio apps that you've downloaded to your iPhone for enjoying podcasts, music, and radio.

RADIO

SIMPLY SMART.


R300 BT is much more than a radio. There's a Bluetooth® hands-free phone portal together with Bluetooth® audio streaming and a USB socket to connect you to the digital world.

USB PORTS

PASSENGER CONNECTIONS.

Optional USB ports for rear seat passengers.