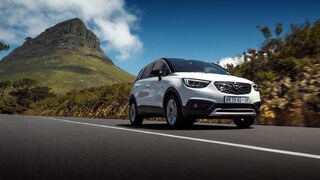 EXTERIOR

THE WELL-ROUNDED CROSSOVER.

A perfect match with urban lifestyle due to the sleek, small SUV design: being refined yet dynamic, the new Crossland X excels with its' practical and sporty elegance.

INTERIOR

AS GOOD ON THE INSIDE

Opel's award-winning design philosophy echos throughout the new Opel crossover's cabin, delivering high-end technology within reach, optimum driver visibility and perfectly placed controls and dials.

 

accessible user controls and dials
high quality materials including chrome detail
Harmonious interior design
Luxurious and ergonomic *AGR certified seats

 

*Available in Cosmo Model

COLOURED ROOF WITH PANORAMA VIEW

TWO-TONED ROOF WITH A VIEW.

Stand out from the crowd: The new Opel Crossland X's two-toned panorama roof not only makes a style statement, but also gives the Crossland X crossover a feeling of spaciousness.

 

*Panoramic Roof on Cosmo only.
INNOVATIVE FULL-LED HEADLIGHTS

SEE 30% BETTER AND FURTHER.

The Full LED Headlights offering a 30% brighter beam, gives you increased visibility and ensures optimal illumination in every driving situation.  

 

Cornering Lights: provide directional visibility allowing you to see corners and hidden obstacles, park better in obscure areas and nught driving is safer and more relaxed.
High-beam assistant: automatically recognises oncoming vehicles and switches the headlights from high to low beam – no risk of glare for other drivers.
Auto Levelling Lights: give better lighting when driving up or down steep inclines, while avoiding glaring oncoming traffic.

 

*Optional on Cosmo models

REAR VIEW CAMERA & PARKING ASSISTANT

SEE WHAT'S BEHIND


Parking has never been this easy with the 180° panoramic rearview camera and Advanced Park Assist , which help you detect objects and park handsfree. Whether you're using the standard or 180° panorama review camera, you enjoy better vision of what's behind and around you. This helps you detect any potential hazards that may be behind or in your blind spots. With the zoom functionality, you get to see objects even better as it automatically switches on to objects closer than 70cm. Coupled with Advanced Park Assist, you can parallel park and exit parking spots handsfree.

HEAD-UP DISPLAY

HEAD-UP DISPLAY.

Without taking your eyes off the road, you can set your

cruise control and limiter

and check

traffic signs

thanks to the

new crossover's Head-Up Display.  

The new Opel crossover's *Head-Up Display increases safety by allowing you to keep your eyes on the road while also checking important information such as:

 

Speed
Navigation direction
Traffic sign for speed limits
Forward collision alert
Cruise control and limiter setting

 

*Optional on Cosmo Model

AUTOMATIC EMERGENCY BRAKING WITH PEDESTRIAN DETECTION

INTELLIGENT EMERGENCY BRAKING.

Using a

front camera

, the

best mini SUV

in 2017 keeps an eye out for pedestrians and vehicles, and

* automatically brakes

or slows down in emergencies.  

With extra eyes on the road, the best small SUV keeps a look out for any objects, vehicles and pedestrians. It automatically detects any potential collisions and alerts you to any hazard such as driving too closely to other vehicles. If you don't brake in time, the *automatic emergency braking either slows down or brakes to a standstill.

 

*Optional only on Cosmo model

 

Automatically slows down from speeds between 30km/h and 85km/h
Breaks to a standstill when driving at speeds below 30km/h
Functions between 5km/h and 85km/h
Speeds beyond 85km will require the driver to brake
Pedestrians detected at speeds of up to 5km/h to 60km/h
Mobile targets detected at speeds between 5km/h to 60km/h
Fixed targets detected at speeds between 5km/h to 80km/h
Opel driver assistance systems are intended to support the driver within the system-immanent limitations. The driver remains responsible for the driving task. Expected to be available from autumn 2017.
BAGGAGE COMPARTMENT


FIT IN AND STAND OUT


The Crossland X perfectly fits to your lifestyle, offering exceptional versatility and the storage space of a SUV – for whatever your day brings. You're never short of space, as you can increase the Crossland X's space from 410 litres to 1,255 litres. Featuring split foldable and slideable rear seats, you can slide them to get up to 520 litres of boot space or fold them at a ratio of 40/60 and achieve 1,255 litres. Even longer objects can fit in with the foldable armrests 

AGR SEAL OF QUALITY CERTIFIED ERGONOMIC SEATS


RELAXED SITTING – NO BACKPAIN.

Arrive relaxed: thanks to our certified ergonomic seats that provide ample support to your back offering 16 adjustment options and *AGR approval.

 

The best crossover in 2017 has your back, with it's ergonomic seats providing great back support and improved posture when behind the wheel. Long distance or just a trip to the coffee shop, wherever you go, you won't want to step out once you're seated in *AGR certified comfort.

 

The *ergonomic seats have proved their back-friendliness to the association "Aktion Gesunder Rücken e.V.", which is an independent expert commission of medical doctors and therapists of various faculties, whose intention is to prevent backache.

 

*Standard on Cosmo models.
INFOTAINMENT

CONNECTIVITY AT YOUR FINGERTIPS


Stay connected to your smartphone, with the

Radio R 4.0 IntelliLink

easily linking to your smartphone via

Apple CarPlay™1 and Android Auto™2

, displaying apps on a large 7" display.

Music playback via bluetooth, USB and Apple CarPlay
Standard AM/FM radio or optional DAB radio
Film and picture viewer via USB
Hands-free calling thanks to Bluetooth connectivity
7" touch display with rich detail 

 

1. Apple CarPlay and Apple are trademarks of Apple Inc., registered in the U.S. and other countries. 2. Android is a trademark of Google Inc.

NAVIGATION

FIND YOUR WAY 


The city or countryside is a treasure quest and the touchscreen

*

Navi 5.0 IntelliLink with voice control is a map to finding your destination. 

Projects Apple Carplay apps on display
Features 3D South African Sat Nav with Traffic Message Channel
Allows for voice control for easier commands

 

*Optional. Compatibility and certain functionalities may differ depending on type of device and version of operating system. To check the compatibility of your device, go to www.apple.com, or www.android.com, or contact your Opel retailer. 
ENGINES

A FINE BLEND OF EFFICIENCY AND PERFORMANCE.


With petrol engine as 

powerful and efficient

 as these, the 

new Crossland X

 never fails to deliver on 

economic 

yet exciting driving.

Offering 1.2 and 1.2 Turbo engines, the Opel crossover SUV delivers on the promise of making economic driving a pleasure everytime you get behind the wheel. The optional *Start/Stop System automatically switches off the engine when you're temporarily stationary and starts up the moment you press the accelorator.

 

*Available on 1.2 Turbo with manual transmission

TRANSMISSION

SHIFT WITH EASE.

Get into gear and shift with ease when enjoying this compact SUV 's smooth manual 5-gear transmission or 6-gear automatic transmission.

ECOTEC®  

SAVE ON FUEL AND EMISSIONS.

Our 

ECOTEC® 

engines offer the perfect balance of 

dynamism, efficiency and economic viability

.

Our ECOTEC® engines help to reduce fuel consumption and emissons. They are supported by aerodynamic design to reduce air resistance and wheels for less rolling resistance. Save even more fuel at traffic lights with our *Start/Stop system.

 

*Available on 1.2 Turbo with manual transmission 
Opel Crossland X

The Crossland X is the new SUV on the block. Safety for your family comes first in the Crossland with systems that are bound to delight! You can expect the latest in driving technology, navigating the streets like a pro. Get in, and get it all with the ultimate in Crossover convenience.